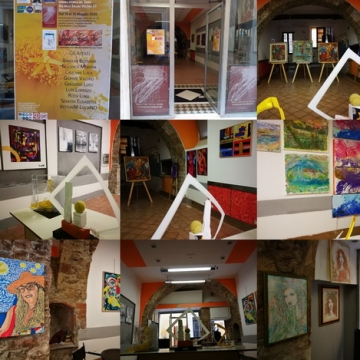 Arte,Cultura-Spoleto, Caffè Letterario del -14-05-2020
LO SPOLETO MEETING ART PRESENTS "SPRING ART"
The Spoleto Meeting Art Primavera Exhibition will be presented on May 23 at 4 pm at the Historical Residence of Sansi via Salara Vecchia 21 Spoleto. A new cultural project called "The Sansi Literary Cafe" was conceived at the Gallery, which will host the Exhibition Event to which the following contemporary Artists have joined: Angelini Rossana, Bellanca Morena, Cruciani Luca, Giuffrè Valerio, Gregorio Luigi, Ludi Lorenzo, Rossi Luigi, Serafini Elisabetta, Vetturini Luciano, Special guest Prof. Silvio Craia with his sculptures from the 60s and 70s. The Exhibition (from 10 May to 30 May) with the artistic direction and care of the Roman Artist Paola Biadetti will be presented on Saturday 23 May in the presence of Angelo Matteo Socci (Magistrate, Artist and collector), Luca Filipponi (President of the Menotti Art Festival Spoleto), Sandro Costanzi (Historian and Art Critic), Francesco Ansidei (Gallery owner and President of the Montemarte Cultural Association). Prof. Luca Filipponi President of the Menotti Art Festival Spoleto is satisfied: "The project is giving us great satisfaction is totally synergistic with respect to the Menotti Art Festival Spoleto (25-28 September 2020) and the Spoleto Meeting Art (International Traveling Project on Visual Arts) ".